MySurveyLab version 1.5 is ready. This time changes are so significant, so we decided to make a big step in version number. The most important changes include :
new workflow for survey creation and data collection
new invoice data form
new paging for survey and collection lists
new Media Kit site
other minor changes and updates

New workflow
Survey creation and data collection workflow have been redesigned. Now to start new research you just need to create a questionnaire, add collector, activate it and copy survey link (URL). That's it.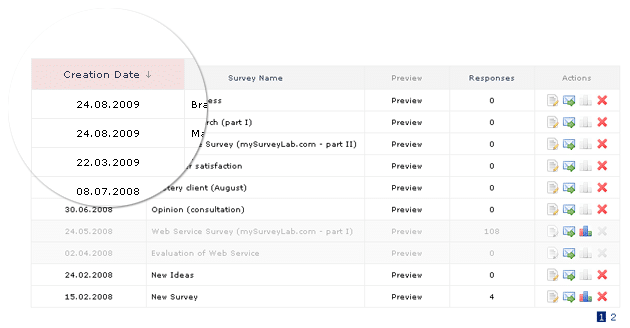 Surveys and collectors now can be sorted by any element (date, name, number of answers).
New invoice data form
We changed the personal data and billing information form. This change will be important only if you want to receive an invoice for the payment made for PRO plan.
New paging
We really like the new paging system we have created. Now you can easily switch between pages with a single mouse click.



Advanced question logic
To simplify survey logic management, now each question with logic in a design mode will be marked with the star (*).



New "Media Kit" page
Thinking about all people that write about online research and new technologies we have created new Media Kit page. It contains basic information about service, our logo, and print-screens showing mysurveylab.com online surveys in action.