Mailing account
This feature will allow you to send survey invitations from any email account. It will allow you to keep all functionalities of our mailing system (ability to track responses) while sending email invitations from your private or corporate email account.
In order to set your email account :
Go to account Settings.
Select Mailing account and go to BASIC CONFIGURATION.
Enter an email address that will be used to send messages with survey invitations (Email (From)).
Enter SMTP Host.
Enter SMTP Port number (most common ports are 25 for connection without authentication, 465 for SSL secured connection, 587 for connection with authentication).
Select Enabled, if your mail server requires Authorization.
Enter SMTP User name.
Enter SMTP Password.
Press SAVE button.
Check your mailbox and confirm your email.
EXAMPLE. SMTP configuration for MS Office 365.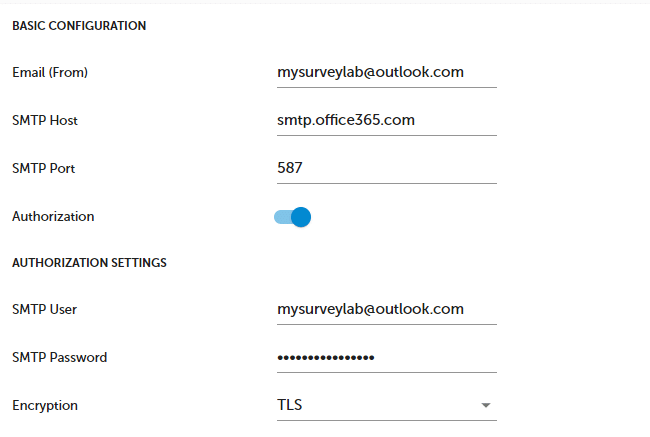 You will receive an email with the confirmation link in your mailbox. If you can't find it please check your SPAM folder. The email is sent from your email address provided in the system. This way we are verifying that a send out will work.

Most commonly used SMTP port numbers are : 25 (for connection without authentication), 587 (for connection with authentication), 465 (for SSL secured connection).

Check the settings for the most popular mail servers :
NOTE. SMTP (Simple Mail Transfer Protocol) is an Internet standard for electronic mail (email) transmission across Internet Protocol (IP) networks.
If you are using Google Workspace or Gmail account you may need to whitelist SurveyLab. Please read this article for more information about SMTP relay.

Some email programs, including Gmail and Outlook, require the activation of 2-component login for SMTP to work properly. You can read more about it on the Google Workspace / Gmail and Microsoft Office 365 / Outlook online help. For Google Gmail, you can also disable Captcha.



Functionality is available in the Advanced, Professional, and Enterprise plan.
---