360 feedback traditionally used by HR departments for evaluation of top managers gains more interest as a tool for employee evaluation, training needs evaluation, and feedback collection whenever it is important to look at a given issue from different perspectives, eg. company, customer, manager, employee, partner (distributor, vendor, ...).

In the last case, the 360 method goes beyond HR processes and can be applied to sales, marketing, processes improvement, or customer care.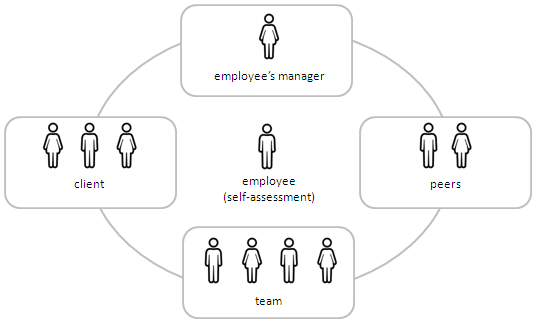 360 method usage example :

Managers potential evaluation.
Employee / project manager's potential evaluation.
Training needs evaluation.
Feedback survey (view on the evaluated issue / problem from different angles).
If you use 360 surveys to evaluate managers or employee potential and if you have a competency model created in your organization, start with the model.

The competence model is an ordered set of competencies, which are accompanied by behavioral determinants of desired behaviors. This is a basic HR tool. It is most often used to describe job positions, conduct recruitment, employee evaluations, training, and development.

The evaluation process may be stressful for your employees. Therefore you should take care of the right communication and personal data security. All survey results should be anonymous, so a person that receives a survey report won't be able to verify who was providing feedback.
360 degree surveys on SurveyLab. How to start work :

Verify if your organization has the competence model. If the answer is yes use the model as a base for your questionnaire.
Create an evaluation questionnaire.
Define groups (manager, employee, team, peers, ...) and prepare a data set.
Create 360 Feedback collector.
Send survey invitation. System will automatically recognize relations between contacts and will personalize survey for each participant.
Go to reports to analyze results.