NPS still remains one of the most popular methodologies for measuring customer satisfaction and loyalty. It is simple to use and easy in interpretation. The methodology was first described in 2003 in the Harvard Business Review by Frederick F. Reichheld in the article "The One Number You Need to Grow". Since that time it evaluated. Currently, there are many different variants of the NPS question, with the different scales (0-5, 1-5, 0-10 and 1-10) and slightly modified wording.

We have prepared a practical guide for you. Below you can read how to start measuring NPS in your organization.
STEP 1. Survey
Start your work by creating a survey. You can use our ready-to-use survey templates or create a survey from scratch by yourself.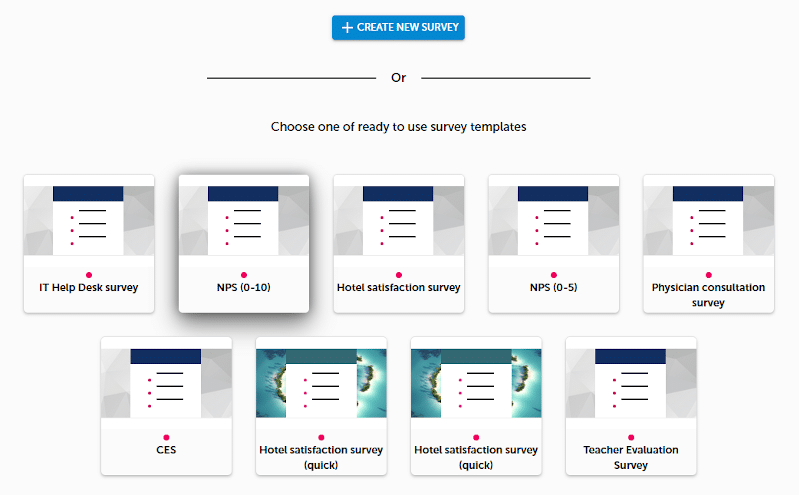 Press + ADD SURVEY button.
Press + CREATE NEW SURVEY button or select one of the survey templates.
Edit survey if needed and add metric. If you have used one of our templates, metric for the NPS question is already there.

TIP. You can automate your work and assign an action to each metric, e.g. send automatic email notification for each identified detector.

STEP 2. Collect responses
Decide how do you want to communicate with your customers or users. You can send surveys periodically, e.g. once a month to a selected group of customers or always after certain event e.g. sales closed in your CRM system.
Press Collect responses, in order to go to the survey collectors.
Press + ADD COLLECTOR button and select the collector type.

TIP. You can fully automate the process of response collection and associate it with any event (e.g. contact with the helpdesk) and a tool.

STEP 3. Analyze results & close the loop
This is the most important stage of any research project. Measuring NPS only makes sense if you are able to make use of the data - respond and improve customer experience based on the received feedback. SurveyLab allows you to analyze results in real-time. This means that the reports are ready to use as soon as you collect the first response.

Press Analyze results, to go to the reports.
Press Report button, to go to the selected survey report.

TIP. You can create hot alerts and add additional comments for specific responses directly in the report.